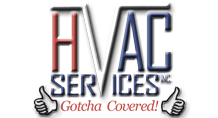 Our Mission
HVAC Services Inc.
Our mission is to be proactive, not reactive in our service program. When equipment failures occur our plan to get the best results goes into action. We assess the problem, determine the cause of failure, and give a fair estimate for repair with the net effect of equipment running at its optimum.
Here at HVAC Services Inc. we Gotcha Covered!

Gotcha Covered Guarantee
Here at HVAC services we do not cut corners, we tailor our services to their budgets without compromising equipment failure.
How We Work
01

RECEIVE REQUEST

02

SCHEDULING

03

JOB ASSESSMENT

04

RENDER SERVICE

05

GOTCHA COVERED
As a company, we care about the quality of our work and the services we provide. Here at HVAC Services Inc. we stand behind our services as well as our warranties and guarantees. We Gotcha Covered!